Master plumbers in Brisbane's western suburbs
Are you looking for plumbers in Brisbane's western suburbs?
Mint Plumbing provides both residential and commercial plumbing services for homeowners, landowners, corporate bodies and business owners in and around Augustine Heights. We are proud of our reputation as one of the most professional and skilled team of plumbers in Brisbane's western suburbs and we go out of our way to ensure that our customers have the very best service.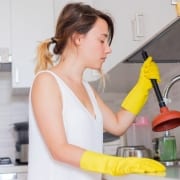 Augustine Heights is a suburb within Greater Springfield, renowned as being Australia's largest master planned community. Commencing in 1993, Greater Springfield is a private development estimated to cost $85 billion on completion, covering nearly 1000 acres and with an estimated population of more than 35,000 is one of the fast growing developments in Australia.
It's purpose is to provide housing and employment for the steadily growing population of Brisbane.  Already Greater Springfield has excellent transport links into Brisbane, as well as the University of Southern Queensland, ten private and public schools, the Mater Private Hospital and an additional health hub, numerous commercial endeavours, shopping malls and residential housing.
Augustine Heights is already well known for its quiet, leafy parks and recreation areas (30% of Greater Springfield is dedicated green space), schools, restaurants and lack of traffic. It's popular with people who want to live in an area with a country feel, but who also want to benefit from a quick 35 minute drive into Brisbane city.
As master plumbers in Brisbane's western suburbs we have many customers in Augustine Heights, as well as in the other suburbs that compose Greater Springfield: Springfield Central, Springfield Lakes, Brookwater, Spring Mountain and Springfield itself.
We have built an enviable reputation with our customers for our professionalism, expertise and integrity. If you need plumbers in Brisbane's western suburbs, you can't do better than the team at Mint Plumbing.
Why select Mint Plumbing as your preferred plumbers in Brisbane's western suburbs?
Mint Plumbing is one of the leading plumbing companies in Augustine Heights and we take pride in our work. As the preferred plumbing company for many homeowners and commercial enterprises, we offer an unparalleled service to our customers.
Australian, family owned business.

Member of the Master Plumbers Association.

Professional, skilled and expert plumbers.

Highly skilled and licensed gas fitters.

We guarantee all of our work.

We are a QBCC registered contractor.

We provide fixed fees and affordable rates.

There are no call out fees.

We provide free quotes.
What services do we provide in Brisbane's western suburbs?
As a long standing plumbing company, we provide every type of plumbing service you will ever need.
Builders/renovators: If you are building or renovating your home, we can provide rough-in plumbing and second fix plumbing, making sure that all your hidden plumbing and your fixtures are installed on time and adhere to all Australian Standards.
Home owners: If you have problems with the plumbing in your home, for example leaking taps, burst pipes or a blockage in your stormwater pipes, as the plumbers in Brisbane's western suburbs, we can locate and repair these problems quickly and efficiently for you.   
Business owners: If you are running a business, office, retail store, factory, warehouse, shopping mall or you are a property manager, we can repair toilets, unblock drains, repair leaking taps and any other plumbing services your business requires.
Maintenance: If you are a corporate body, we can provide a comprehensive maintenance plan for all of your units, swimming pools, spas and sprinkler systems.  
Gas fitting: Mint Plumbing is also well known for our skilled gas fitters, who are fully qualified and licensed to install or repair all gas appliances: stoves, ovens and gas hot water systems.
Fixing leaking toilets
Leaking toilets can be anything from an annoyance to a health hazard, depending on where the leak is occurring. Leaks into the toilet bowl can be caused by a faulty flapper or a broken fill valve that either allows the water to continually trickle into the toilet from the cistern (faulty flapper) or the toilet won't stop flushing (faulty fill valve) .
Another cause of a leaking toilet is that the wax seal is broken. This is the seal that sits underneath the toilet and on top of the floor, preventing water and anything else from leaking out onto the floor. Once we have taken a look at your toilet, we can identify the cause of your problems and can fix them for you.
A leaking wax seal will take longer to fix than either a faulty flapper or fill valve however, simply because we need to remove the toilet before we can replace the wax seal. Whatever the cause of your leaking toilet, you can be sure that the best plumbers in Brisbane's western suburbs will be on the job!
Repairing blocked, burst or broken pipes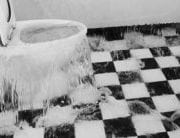 Mint Plumbing repairs or replaces blocked stormwater pipes, mains water pipes and sewage pipes. It's not always easy to locate blocked, burst or broken pipes, particularly if they are buried underground. It's fairly easy to spot leaking pipes inside your home however, because there is usually clear evidence of the leak.
Outside however, we can sometimes locate a leaking pipe because the grass is much greener in one area than another or even see clear evidence of the water collecting on the surface of the ground. Occasionally, we have seen water simply forcing itself out of the ground!
In general though, leaking water is usually absorbed into the ground leaving little evidence of a broken, burst or leaking pipe on the surface. This is where our CCTV comes in handy, because we can run it down the pipes and identify exactly where the problem is along the pipe. Then, depending on the damage, we can repair or replace the pipe for you.
Pipes can be broken, burst or blocked for a number of reasons, but mainly due to tree roots growing into the pipes or a shovel being rammed through them by a gardener or builder! Sewage pipes, however, can be easily blocked by flushing items that should never be deposited down toilets, including feminine hygiene products, sanitary wipes and even disposable nappies.
Once we have located the problem, identified the cause and assessed the damage, you will have the best plumbers in Brisbane's western suburbs on hand to make everything as good as new again!
Fixing leaking taps, installing new taps, sinks and shower heads
If your taps are leaking, whether in the kitchen, bathroom, laundry or in the garden, we can fix them or replace then, whichever you prefer. We can also install mixer taps in your kitchen sink or bathroom, as well as updating your kitchen or laundry sinks, bathroom vanities and shower heads. All you need to do is call the most popular plumbers in Brisbane's western suburbs and we will be on the job ASAP.
Installing new rainwater tanks and pumps
Installing rainwater tanks is a great way to cut down on your water bills for watering the garden and helps the environment as well. Instead of struggling to do this job yourself, our experienced plumbers will help you to select the best tank and pump combination for your needs, have them delivered to your property, and install them for you. It's all in a day's work for the best plumbers in Brisbane's western suburbs!
Installing and repairing gas appliances and hot water systems
Most homeowners like to install gas ovens and stoves, as there is something particularly wonderful about cooking with gas! Mint Plumbing can install all of your gas appliances, whether natural gas or LPG and have you ready to cook your first meal in no time at all.
Gas hot water systems, particularly instant gas hot water, are also becoming more and more popular with homeowners and we can install these systems for you, helping you to select the best one for your needs. We can also repair and test gas stoves, ovens and hot water systems, even disconnect them for you if you are renovating your home and reconnecting them when you are ready. When only the best plumbers in Brisbane's western suburbs will do – call Mint Plumbing today!
Bathroom, kitchen and laundry renovations and new builds
If you are building your own home or renovating your laundry, bathrooms and kitchen, Mint Plumbing can perform all the rough-ins for you and then come back and install all of your appliances. We can help you to select the best appliances and fixtures for your new build home or renovations and do all of your plumbing, from the design stage through to completion. The team at Mint Plumbing are the best plumbers in Brisbane's western suburbs!
Plumbing repairs and maintenance
Whether you are a homeowner, landlord, commercial property owner, corporate body or a property manager, Mint Plumbing can perform all of your new installations and repairs. We also offer a maintenance service that involves regular inspections to ensure that all of your plumbing is in tip-top condition. As highly experienced plumbers in Brisbane's western suburbs, we have many residential and commercial clients who appreciate our proactive maintenance services.
Insurance quotes and repairs
If you have suffered a plumbing disaster and need to claim the repairs on your insurance, we can come in and inspect the damage, sending a comprehensive report to your insurance provider. We can also follow up with the repairs, making sure that everything is as good as new.
If you want the best plumbers in Brisbane's western suburbs, call Mint Plumbing on 07 3297 6517 or send us an email today and ask us for a free quote.
Don't forget that we also offer a 24/7 emergency plumbing service for when it just can't wait until tomorrow!